CDR Tool Technician Train-The-Trainer Course

This very specialized training course is only open to those who have completed the Collision Safety Institute CDR Tool Data Analyst and the CSI CDR Tool Technician Courses in the past three years or are already CSI licensed Technician Trainer Mentors looking to renew their training license. No other "operator's" or on-line technician courses qualify. After all, one can't teach a course that they haven't already attended, right? Registrants qualifications for this course will be confirmed before registration will be finalized.

The CDR Technician Train-The-Trainer program includes the Bosch CDR Tool Technician course, the Tesla EDR Technician Course, and the Hyundai and Kia EDR Tool Technician Course, handouts, instructor PowerPoint, instructor notes, exams, exam keys and additional handout material for the Trainer to distribute to those attending their course. The course is then licensed to the instructor for 2 years.

This CDR Technician Train-the-Trainer Course is an opportunity for qualified and experienced CDR Tool Data Analysts to train others to the Technician level. It does not qualify one to teach the CDR Data Analyst Course. Those who successfully complete this course and provide personalization information will be provided with a training materials thumb drive personalized for that specific individual to teach the CDR Tool Technician level course. That material cannot be changed or used in conjunction with some other crash data related course offering and is licensed specifically to the individual instructor and for a 2 year period. This policy ensures that the Technician level course material presented is consistent and current each time it is offered. Periodic updates will be made available to licensed trainers as the Technician course materials and/or CDR Tool software is updated during the term of the license.

During this course, prospective trainers are walked through the course material, slide-by-slide and the concepts and purpose of each topic is explained in detail so the prospective trainer can comfortably and professionally present that material on their own. Attendance at the Train The Trainer course alone is no guarantee an individual will successfully be licensed to teach the material. During this course, individual potential instructors are evaluated for their understanding of the material, ability to process and present the material and competence as an instructor in this specialized topic area.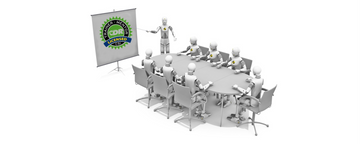 Once an individual has successfully completed this course, to be issued a set of training materials, and Licensed Technician Trainer/Mentors will be expected to:

✓ Agree to use only the course material provided as part of this training during their presentations of the Technician class
✓ Agree to not redistribute any part of the provided course presentation material and not subcontract another instructor to present this material for that individual certified trainer
✓ Agree to have on hand during the course presentation a sufficient number of CDR Tool accessible modules – each with stored data – to facilitate in-class download exercises for class sizes up to 30 students.
✓ Trainers are expected to own a current Bosch CDR Tool which the licensed trainer would use during the presentation of the Technician Course

New to the Technician Train-The-Trainer program are ready-to-use Hyundai and Kia Tool technician course materials as well as the newly developed Tesla EDR Technician level materials.

Next Train The Trainer Class
The next CSI Train The trainer class will be offered February 4, 2024 before the 2024 EDR User's Summit. Registration is only open at the
EDRSummit.com